About your Guide
Steve Hamilton
Steve was exploring Western Desert battlefields before most battlefield tour companies' existed. Over the years
he has experienced many adventures out in the desert, often travelling alone with a non-English-speaking driver:
from finding some small battlefield relic to graves at Alamein, Libya and Tunisia: seeing unexplained explosions in
the Libyan desert, only to find out it was a German bomb disposal team clearing mines; at Akarit the shock of his
young son holding an unexploded mortar bomb, and the translator throwing it to see if it would explode!
Steve's experience in travelling and guiding groups across the desert battlefields is now second to none, having
completed over 100 tours to the desert. His initial interest in the desert war was the 50th Royal Tank Regiment in
which his grandfather had served, and the German AfrikaKorps.
Acknowledged as the unofficial Historian of the 50th RTR, (23rd Armoured Brigade) Steve wrote their history in
1996. His grandfather had been a pre-war soldier in India and later a tank driver in North Africa with the 50th RTR.
Sadly he was killed in April 1943. Steve would later stand on the exact spot in the desert where his grandfather
was killed. This remote spot in the desert would become a 'marker' for all future tours and his guests.
Steve lived in Germany for 15 years, and it gave him the opportunity to make friends with many former members
of the German AfrikaKorps and an insight "behind enemy lines". He still considers the best tours to include guests
from both countries. "There is nothing quite like seeing two former enemies or their son's or grandchildren
standing side by side on a battlefield" Some highlights came when he spent a week in Egypt with Rommel's Battle
Secretary, and at the then newly-opened Museum at Mareth, gave the staff their first Mareth battlefield tour. Steve
is also an honorary member of the German AfrikaKorps. Thirty years after he first walked in the sands of the
Western Desert, he now believes it is unlikely that any other Battlefield Guide/Researcher has spent more "time"
on the North African battlefields than he.
During a 5 week tour in 2005 Steve rediscovered the "Rommel Haus" made famous during the "Raid on
Rommel" of 1941. Then just a week later in Tunisia, he discovered the graves of over 20 German soldiers, which
the German authorities admitted to "not knowing about". In April 2008 in Libya Steve discovered a forgotten
battlefield cemetery containing the remains of more than 30 soldiers of the Second World War. In April 2010 he
discovered one of the caves used by the Rommel raiding party which was still prepared for defence and the
graves of 2 Italian soldiers reputedly killed in the fire fight close to the beach.
For Steve going to the North African battlefields is more than a job, more than a hobby, it is a passion. He gets a
great deal of satisfaction helping people connect with their own or loved one's war stories, and his on-going
interest in uncovering lost history, or unknown facts is unlikely to fade. "Every tour is an adventure of discovery"
and he never fails to get caught up in one of those special "battlefield moments".
In early 2012 Steve guided a top New York photographer on a massive 25 day tour of Tobruk and the
surrounding area, resulting in a brilliant book of stills from the various battlefields. A short time later he was the
battlefield guide for a top TV company, who filmed the Western Desert for the forthcoming documentary being
released to coincide with the 70 th Anniversary of El Alamein. ' Steve is a guide of the old school never uses a
GPS or local guides and gave up using maps to find his way a long time ago.
Steve here at his grandfathers grave at Sfax
"Steve Hamilton and his Western Desert Battlefield Tours are doing sterling work in helping to preserve, honour
and bring alive the momentous history of the key Desert battles of World War Two for countless family members
and dedicated military enthusiasts alike." Mike Morgan, author of Sting of the Scorpion - the Inside Story of the
Long Range Desert Group, Daggers Drawn - Second World War Heroes of the SAS and SBS and other leading
Special Forces titles.
In April 2006 Steve guided the Best Selling Australian author Peter Fitzsimons on a tour of Tobruk, prior to the
July launch of his new book "Tobruk". This is what Peter writes in the Introduction:
In April of 2006, I was privileged to be able to go to Tobruk itself after two previous attempts had gone awry in the
company of the greatest North African battlefield expert of them all, Stephen Hamilton. In a four-wheel drive, in a very
low gear, I was able to visit all the places I had been writing about and make changes to this book accordingly. You will
see, for example, reference to Hill 209 in the chapters to come, and yet it was only while standing upon it that I was truly
able to appreciate its signifance. Equally, it was only while standing at post R33, that I could really get a true sense of
the sheer wind-swept desolation of that part of the desert, or standing at the base of Ed Duda hill that I could hear
something of the eeery echo of what it must have been truly like, and this book is all the better for it. I record my deep
appreciation to Stephen Hamilton both for going to such efforts to get me all those places and more around Tobruk, and
for subsequently reading my battle-field accounts and making suggestions accordingly.
Talal Bariun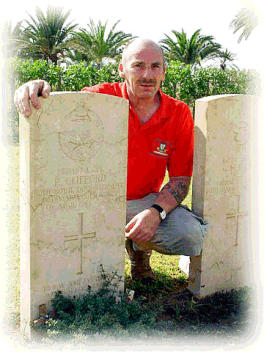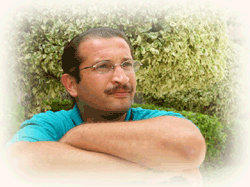 Talal heads our North African office which is based in Tripoli. Talal married with 5 children and a wife he
describes as "his beautiful government" is a lawyer by profession and also a top class photographer, but his
heart is in the desert, cutting his teeth on tours to the Sahara. It was only when Steve took Talal on a battlefield
tour for the first time that his eyes were opened to a whole new history of Libya.
One of our guest's wrote:
"From our perspective, I would say that Talal is an enthusiastic, knowledgeable expert in all things North African.
He goes to the absolute heart of things, and this is shown in his incredible photographs - he sees what matters
and then shares his knowledge and heart with you.
When he works with Steve Hamilton, he is the perfect foil. Steve is the 'man with a mission', intent on revealing
the past and uncovering hidden truths, while quietly Talal makes all this happen. It is the perfect touring
combination. And, Talal does this with gentle humour and endless patience!"
Steve will often refer to Talal as his brother and quite rightly so, feeding off each other, the energy created
passes onto the group ensuring everyone has a memorable tour.
Our Tribute to Talal and his Libyan Freedom fighters.
You won't dream to see this anywhere in the world except in Libya....